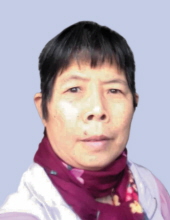 Obituary for Yinqiao Huang 黃銀巧女士
黃銀巧女士 (黃齊喜之愛女,黃銀煉、黃銀平之胞妹,黃國賢、黃國禎、黃麗旋、黃麗蓮之胞姐),廣東省新會縣古井鎮長樂鄉人氏,於二零一九年十月二十日逝世,享年五十八歲。遺體現停厝全福殯儀舘定於十月二十六日 (星期六) 下午二時至六時,十月二十七日(星期日)上午九時至十時十五分開祭,十月二十七日 (星期日) 上午十時三十分出殯安葬上州瓊斯高墳場自置壽地。

Yin Qiao Huang passed away at New York Weill Cornell Medical Center in New York, NY, on Sunday, October 20 at the age of 58. Ms. Huang was born on November 29, 1962 in China. She is survived by her Mother; Qixi Huang, Brothers; Guoxian Huang, Kevin Huang, Sisters; Yinlian Huang, Yinping Huang, Lixuan Huang, and Lilian Huang.

Viewing hours will be held on Saturday, October 26, 2019 from 02:00 PM - 06:00 PM and on Sunday, October 27 from 09:00 AM – 10:15 AM at Chun Fook Funeral Services LLC, Flushing, NY. The Funeral Procession will start at 10:30 AM on Sunday, October 27, 2019 at Chun Fook Funeral Services. The Interment will take place at kensico Cemetery in Valhalla, NY. The estimated time of arrival to the Cemetery is 11:30 AM.
Previous Events
開祭 Visitation
全福殯儀館 (Chun Fook)
134-35 Northern Boulevard
Flushing, NY 11354
開祭 Visitation
全福殯儀館 (Chun Fook)
134-35 Northern Boulevard
Flushing, NY 11354
出殯 Funeral Procession
全福殯儀館 (Chun Fook)
134-35 Northern Boulevard
Flushing, NY 11354
安葬 Burial
Kensico Cemetery 瓊斯高墳場
273 Lakeview Avenue
Valhalla, NY 10595