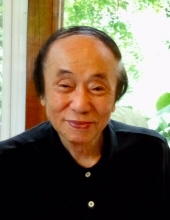 Obituary for Maojung Chen 程茂榮翁
程茂榮翁 (林春桃之丈夫) 台灣桃園人氏, 痛於二零一九年十一月二十一日與世長辭,積閏享壽九十有餘歲。遺體現停厝全福殯儀館謹定於十一月二十九日 (星期五) 上午九時開祭,同日中午十二時正出殯移靈皇后區聖米高火葬場舉行火化。

Mr. Maojung Chen passed away at North Shore University Hospital on November 21, 2019 at the age of 89. Mr. Chen was born on November 6, 1934 in Taiwan, he is survived by his loving life; Chun Tao Lin.

Viewing hours for Mr. Maojung Chen will be held on Friday, November 29, 2019 from 9:00 PM to 12:00 PM at Chun Fook Funeral Services LLC. The Funeral Procession will begin at 12:00 PM on Friday, November 29, 2019. The Cremation will take place at St. Michael's All Souls Crematory, East Elmhurst, NY. The estimated time of arrival to the Crematory is 12:30 PM.
Previous Events
開祭 Visitation
全福殯儀館 (Chun Fook)
134-35 Northern Boulevard
Flushing, NY 11354
出殯 Funeral Procession
全福殯儀館 (Chun Fook)
134-35 Northern Boulevard
Flushing, NY 11354
火化 Cremation
St. Michael's All Souls Crematory 聖米高火化場
72-02 Astoria Blvd.
East Elmhurst, NY 11370