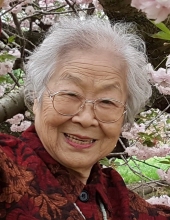 Obituary for 徐林之芳太夫人 Lin Tze Fan Hsu
徐林之芳太夫人(潮君之令堂) 於一九三一年七月三日出生於江蘇省南京市(原籍:浙江省上虞縣)。 於二零一八年十二月二十四日蒙主寵召,主懷安息,臨終前子媳率所有家人均隨侍在側, 在世寄居八十八載。遺體現停厝全福殯儀館, 謹定於一月六日 (星期日) 下午二時至五時追思(其間三時至四時為安息禮拜),次日一月七日(星期一)上午九時至九時四十五分追思,一月七日(星期一)上午十時正出殯移靈皇后區聖米高火葬場舉行火化。靈骨將由家人護送回台北,擇日安厝於五指山國軍示範公墓忠靈殿,與先君徐德餘將軍長相陪伴。徐太夫人生前,與夫君徐德餘將軍(1922 - 2004,江蘇句容)結縭於1949年, 胞姊林芬,胞妹林華,胞弟林徑,林倫均往生在先。徐太夫人遺有孝男潮君,孝媳大敏,孝孫男博容,孝孫女舒容,孝孫婿鍾泰興,孝曾孫男鍾尚德,孝曾孫女鍾尚怡,另有胞弟林魯(居於上海)。


Mrs. Lin Tze Fan Hsu passed away peacefully at Long Island Care Center, Flushing, NY on December 24, 2018 at the age of 88, with her son, daughter-in-law and rest of the family all by her bedside at her last moment. Mrs. Hsu was born on July 3, 1931 in Nanjing, China. Mrs. Hsu was preceded in death by her husband of 55 years, Teh-Yu Hsu (1922 - 2004), three brothers, and two sisters. She is survived by her loving son, Chaur-Jian, daughter-in-law, Dah-Miin, two grandchildren, Byron and Sharon, grandson-in-law, Richard Chung, and two great grandchildren, Alexander and Audrey; also a brother, Lin, Lu (in Shanghai, China).

Viewing hours for Mrs. Lin Tze Fan Hsu will be held on Sunday, January 6, 2019 from 2 PM to 5 PM (during the time, from 3 to 4 PM for memorial service), also viewing hours on Monday, January 7 from 9:00 AM to 9:45 AM at Chun Fook Funeral Services. The Funeral Procession will begin at 10 AM on Monday, January 7. The cremation will take place at St. Michaels All Souls Crematory, Queens, NY. The estimated time of arrival to the Crematory is 10:30 AM. The urn will be accompanied by family and travel to Taipei, then to be placed in a National Military Columbarium with her husband permanently.
Previous Events
追思禮 Wake Service
全福殯儀館 (Chun Fook)
134-35 Northern Boulevard
Flushing, NY 11354
安息禮 Funeral Service
全福殯儀館 (Chun Fook)
134-35 Northern Boulevard
Flushing, NY 11354
追思禮 Wake Service
全福殯儀館 (Chun Fook)
134-35 Northern Boulevard
Flushing, NY 11354
出殯 Funeral Procession
全福殯儀館 (Chun Fook)
134-35 Northern Boulevard
Flushing, NY 11354
火化 Cremation
St. Michael's All Souls Crematory 聖米高火化場
72-02 Astoria Blvd.
East Elmhurst, NY 11370
Cemetery Details
Location
St. Michael's All Souls Crematory 聖米高火化場
72-02 Astoria Blvd.
East Elmhurst, NY 11370